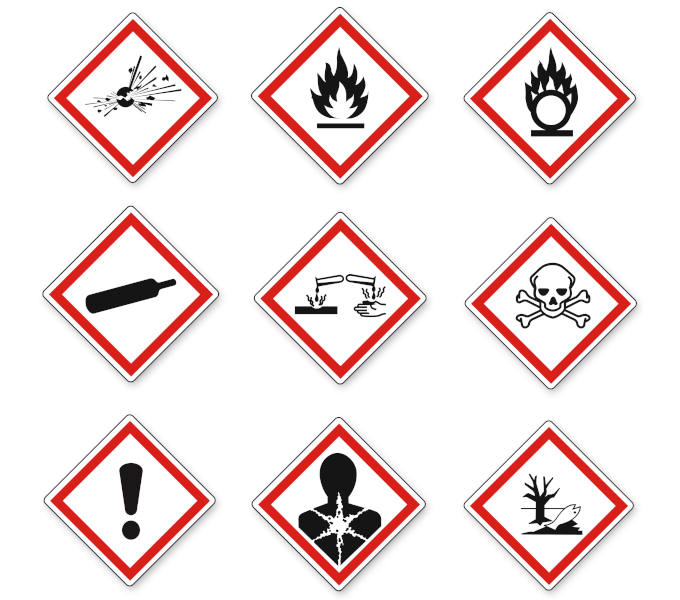 The Globally Harmonised System (GHS) of classifying and labelling chemicals is a useful tool for improving the safety and efficiency with which potentially hazardous substances can be transported, stored and handled.
It is a comprehensive system that:
Defines the risks to health, physical safety and the environment
Uses available data to create chemical classification processes
Clearly communicates hazard information and recommended protective measures
Why is GHS labelling important?
The GHS was put into place to provide better protection for humans and the environment. By using a standardised labelling system that can be followed around the world, language barriers and localised classification systems should no longer pose a threat to safety. Not only does it provide a recognised system for countries, industries and companies without an existing system, but it makes the trade of these chemicals easier across borders. For example, if the label on an imported substance is clear and reliable, there is less need to test and re-evaluate it.
What are the key elements of GHS labelling?
There are two key elements of GHS communications – the pictogram label or placard, and the associated Safety Data Sheet (SDS). The images and text used must be consistent throughout your labelling. See the GHS Purple Book for more details.
When it comes to your GHS labels, there are a number of guidelines that should be followed. These include:
A signal word to indicate the level of hazard. These include phrases like "Warning" or "Danger" (which is more severe).
A two-tone pictogram (or multiple pictograms), with the hazard symbol printed in black surrounded by a red diamond border.
Information about the chemical manufacturer (company name, address etc.)
Precautionary statements and first aid recommendations. These can include measures for prevention, response, storage and disposal, and should be reiterated on the SDS.
The hazard statement, which should be reiterated on the SDS.
The chemical or product name, along with any other identifiers that might be appropriate.
At Southern United, we have produced durable GHS labels for a number of clients across industries. If you have a new requirement for GHS labelling or have decided to upgrade your existing labels, contact our team to help you get your new design right first time.