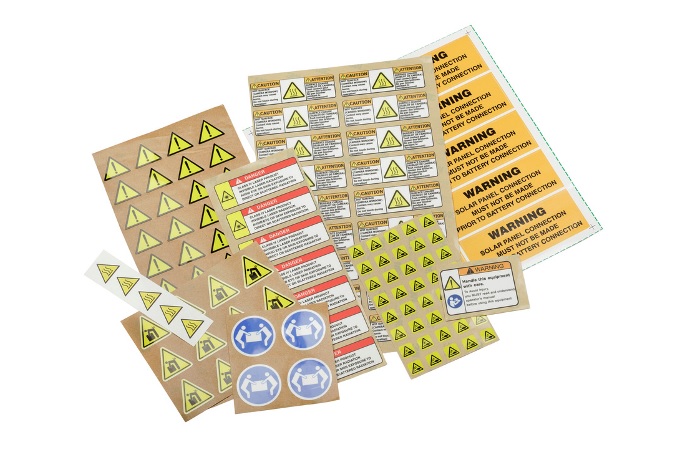 As a well-established printer, providing quality labels and nameplates, Southern United is proud to offer health and safety labels in a selection of materials. We concentrate our efforts to ensure our clients continue to receive first-class customer service and compliant products. Moreover, we hold the EN/AS 9100D & ISO9001:2008 certifications so you can be reassured that your products will be fully compliant.
Safety Labels to keep your staff safe at their workplace
We are continually improving our current techniques to ensure that we remain at the forefront as modern label manufacturers.
There are a number of Health & Safety labels required in your workplace to comply with the current legislation. As a result, Health and Safety legislation impacts businesses of all sizes. We can manufacture compliant safety labels and therefore facilitate the inventory of your items.
Finishes available: Serial numbering, Barcoding, Pin dot marking and many other finishes.
We can custom print any specialist design on a wide range of different materials and finishes.
As well as Health & Safety labels, our highly experienced team can also offer warning labels in order to protect you and your machinery, or heat/weather resistant items. 
Contact Us
Southern United can offer you everything you need when looking for a nameplate or label. If you have any questions regarding the products we provide, please do not hesitate to get in touch with us today.
Alternatively, you can call us on 01273 418636 and speak to a member of our Sales team.