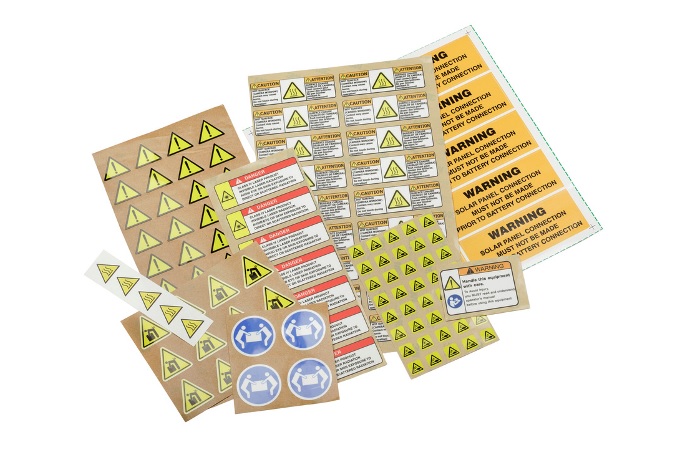 As a company with over 70 years experience in providing expert quality labels, laminates, nameplates and more, Southern United are proud to offer a wide range of bespoke health and safety labels in a selection of materials for clients both large and small. Incorporating both seasoned professionals and apprentices with new and innovative ideas, we combine our efforts to ensure that our clients continue to receive first class services and products that will last for years to come. We are certified to AS 9100C and so you can be assured that your products will be made to the highest standards.
About Us
With a team of seasoned veterans combined with fresh-faced apprentices we are continually improving our current techniques to ensure that we remain at the forefront as modern label manufacturers. We are also proud official suppliers on Achilles, a testament to our continued efforts towards first class customer service.
Health and Safety legislation impacts large, medium and small businesses and in order to comply with current legislation there are a number of health & safety labels that you are required to have in the workplace. We are also proficient in producing serial numbering, bar coding, pin dot marking, and many other finishes in order to assist you with the inventory of your items.
Our service differs in that we are able to custom print any specialist design on a wide range of different materials and finishes. As well as health and safety signs, our highly experienced team can also offer warning labels in order to protect you and your chemicals, machinery, or heat/weather resistant items. 
Contact Us
Drawing from over 70 years' experience in the manufacture and supply of a wide range of nameplates and labels available in a number of materials, finishes, thicknesses, size, colours and shapes, Southern United can offer you everything you need when looking for a nameplate or label. If you have any questions regarding the products we provide, please do not hesitate to get in touch with us today.
Simply contact us by filling out the enquiry form on the right or by emailing us at sales@sunited.co.uk and we will be in touch. Alternatively to speak directly to an adviser you can call us on 01273 418636 and speak to a member of our friendly team, who will happily help you.