Southern United are leading experts in manufacturing metal nameplates, metal labels, etchings, engravings and a wide variety of other products, with over 70 years' experience. With a focus on remaining at the forefront of modern manufacturing, we combine tried and tested traditional methods with state-of-the-art technology in order to offer a range of bespoke services to our customers.
Based in East Sussex, we have provided metal labels and name plates to businesses and organisations throughout the South East, in London and across the UK. Our team of highly trained and knowledgeable employees comprise seasoned professionals right through to apprentices, so that we can constantly incorporate new ideas and learning into the products and services we offer you.
Nameplates, etchings and engraved plaques provided by Southern United are made to each customer's unique specifications and are available in a range of sizes, shapes, colours, materials and finishes. We work to your exact requirements and are also able to work to specific time constraints if you need your products for a particular event.
Metal Labels by Southern United
Southern United Ltd are experts in producing items, such as metal labels, on a number of different materials including stainless steel, aluminium and brass. At your request, we can also provide specialist metals to your exact specification. Of course, we are always happy to provide you with expert help and advice. We provide products in three main materials;
Southern United can produce a number of different finishes including grained, polished, anodized and etched. We also provide any engraving, laser cutting and piercing that your items may require. All of our items are entirely bespoke and made specifically for you. Southern United hold a stock list of colours that can be printed onto our metal labels, but we also have a number of suppliers ready to colour match to your precise requirements so that we meet your needs exactly.
We are very happy to provide samples for the material you require. We are also able to manufacture a wide range of aluminium foil name plates and labels as well as a broad range of CE Marking labels for use in different applications.
Sundries – Any additional specifications may be added such as;
Serial numbering
Self-adhesive
Labels in roll form
Individual marking
Removable plastic film to protect the surface of the plate.
Other Services We Provide
Southern United provide nameplates and labels for clubs, organisations and industries on a large scale. By working on a personal level with each of our customers, we are able to provide bespoke products perfectly suited to their requirements. With a range of products available, including key chains, bar badges, engraved items and more, we offer a selection of materials and finishes to give your order that unique touch.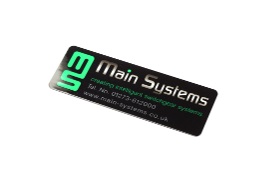 Our range of polyester is available in a number of thicknesses and can used in a variety of industrial applications, making it a popular material. We use a wide range of solvent based inks to create your design, manufacturing a unique product for your business.
Rigid PVC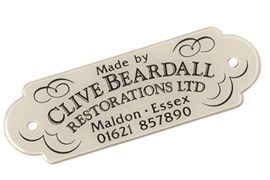 Rigid PVC is available in a variety of finishes, including matt, textured and gloss making it a popular choice of material. Our polyvinyl chloride can also be sub surface printed, which is used to improve the durability of the nameplate or label to meet your specifications.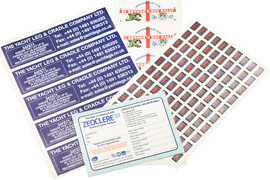 Our Vinyl labels are printed using solvent inks, making them incredibly durable and they are also waterproof, weather-proof and scratch-proof. Suitable for use in a wide range of industries, our vinyl labels can be made to suit any specifications you might have, including choosing the size, colour or shape to meet your requirements.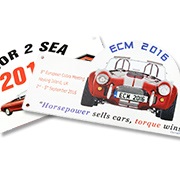 Created to your unique specifications, we can provide a range of products for your club or organisation. Available in a variety of materials and finishes we can provide products such as key rings, window stickers, brass labels, engraved items and more to suit the theme of your club or organisation in time for your event.
Get in touch for a free quote
If you are looking to produce high quality metal labels, industrial labels, foil labels, nameplates or other items, get in touch today by using the form on this page.