Wealth of experience in the manufacture of quality metal labels & nameplates
Southern United are leading experts in the manufacture of bespoke labels & nameplates with over 70 years of experience. We use a combination of traditional methods with state-of-the-art technology to provide you with appropriate solutions for your desired application.
We can help you find the material & finish to meet your requirements. We can manufacture from a broad range of available materials, cut-to-shape tools, colours, and finishes. We work to your exact requirements and can also work to specific time constraints.
strive to always remain at the forefront of modern manufacturing, combining tried and tested
Printed, etched and engraved plaques provided by Southern United are made to the unique specifications of each client.
Metal nameplates are highly versatile
Southern United Ltd is an expert in producing durable metal labels & nameplates, on a number of different materials including: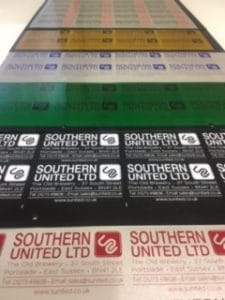 Plastic Nameplates
Rigid Laminate Nameplates
Material samples are available upon request
Should we not stock the required material, we will liaise with our approved metal suppliers to ensure we meet your material specifications. We select our approved metal suppliers based on strict criteria, including metal grade availability.
Alternatively, we are always happy to provide you with expert advice and guidance should you be unsure about the best material for your work environment.
Extensive printing & finish capabilities available
Southern United can produce your metal labels & nameplates from a number of different finishes including:
Sulphuric Anodised & Seal
Etch & Print
Laser cutting
Cornering & Piercing
Labels are printed or filled from a stock list of colours onsite for quicker turnarounds. We also have a number of suppliers ready to colour match your precise requirements so that we create a product that exceeds your expectations.
Additional specifications are available such as:
Serial numbering
Self-adhesive
Individual marking
Removable plastic film to protect the surface of the plate
We are also able to manufacture from a thinner metals such as Aluminium Foil labels for use in different applications.
Get in touch

Based in East Sussex, we have provided metal nameplates to businesses for a variety of industries across the UK. Our team of highly trained and knowledgeable employees comprises professionals right through to our new members of staff so that we can constantly incorporate new perspectives, ideas, and learning into the products and services we offer you.
If you are looking to produce high-quality metal labels, industrial labels, foil labels, nameplates or other items, get in touch, today and a member of our team will get back to you.