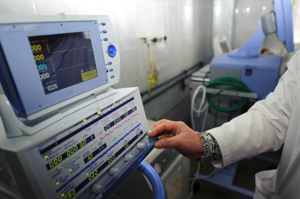 Southern United Ltd are highly experienced in producing labels for use in medical applications, having provided our clients working within the medical industry with specialist labels for many years. The company began trading in the 1930's; whilst we are proud of our traditional values, we also ensure that we keep pace with contemporary developments. We produce specialist labels for a large number of highly respected worldwide medical equipment suppliers, together with a large number of NHS branches across the UK.
Medical labels by their very nature must be able to withstand the extremes of environmental pressures; from high and low temperatures to resistance to chemicals. Corrosion due to general wear and tear can also be significant within a medical environment. We provide our clients with expert advice to ensure that our labels meet their specific requirements.
Southern United Ltd. specialise in producing labels on a multitude of materials and with a variety of finishes to meet the client's specific requirements. All of our labels and nameplates are created in-house, enabling us to manage the process from start to finish to produce a top quality, bespoke product.
We provide information specific to each material on our website, however you may prefer to send us an enquiry from using the form to the right. Our experienced customer service team are always happy to help.
GET A NO OBLIGATION, FREE QUOTE
If you would like to learn more about our medical labels, or would like us to provide a free quote for our services, please contact us today.