Southern United specialise in stainless steel nameplates, stainless steel labels and laminates manufacturing with a focus on ensuring that companies, businesses, clubs and organisations from all industries get exactly what they need when ordering from us. With a huge variety of materials to choose from, we offer completely bespoke stainless steel labels and nameplates made to your specifications. We are also proud registered suppliers on Achilles, providing you with complete peace of mind. We make use of traditional techniques alongside state-of-the-art modern equipment to ensure every item we produce is of the highest quality.
Choose from your ideal size, shape, colour and finish for your nameplates or laminates, as Southern United can supply standard signage or custom designs for your company. We can also manufacture memorabilia perfect for clubs and organisation, such as window stickers and key chains. Using our team of professional manufacturers and apprentices, we combine efforts to ensure that all our clients receive first class products that are built to last.
Why Stainless Steel Labels?
Our stainless steel labels are available in a variety of thicknesses and can be produced to your specification with either a grained or a polished finish. If we do not stock the particular thickness of stainless steel that you require, we are always happy to source it to meet your exact specifications.
Stainless steel is one of our most popular materials. It is an extremely robust metal that can be successfully used in both interior and exterior environments. It is highly effective in both harsh environments and in extreme temperatures. Being both robust and durable, stainless steel is the ideal material to use in a wide variety of conditions.
We specialise in personalising your items to your specific requirements using techniques including etching, printing, and machine. If necessary, we can employ a combination of techniques to meet your particular needs. We are committed to producing top quality stainless steel labels and nameplates that are bespoke to customers' exact requirements, producing a unique and quality item on time, every time.
Services We Provide
Offering a wide range of products available in a number of shapes, sizes, materials, finishes and more, Southern United works closely with each and every one of our clients to ensure complete satisfaction. We provide a personal service, using tried and tested methods to ensure that every product we provide is unique to the needs of your business. Examples of the products we provide can be found on our metal labels and plastics manufacturing pages.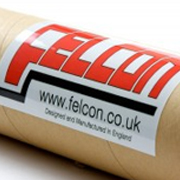 Made from a plastic film, polyester is highly resistant to heat, available in a variety of thickness and is used for a number of industrial applications.
We can create any design you need by offering adhesion to a wide range of solvent based inks.
Rigid PVC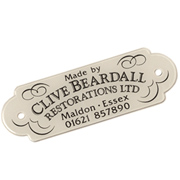 A durable, flexible material often used for membership and bank cards. Rigid PVC is also known as polyvinyl chloride and can be made with a variety of finishes, including matt, gloss and textured. Southern United will also provide sub surface printing in order to improve the durability of the Rigid PVC.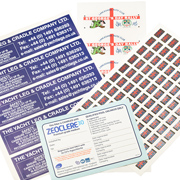 Due to its durability, Vinyl can be used for a number of applications. It is printed using solvent ink, making the material scratch-proof, waterproof and weather-proof. Southern United are able to make vinyl labels to any size, shape or colour you desire in accordance with your specifications.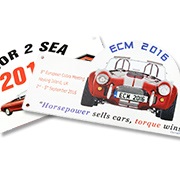 Whether you're organising a charity fundraiser or simply want to highlight a particular event, high quality memorabilia from Southern United is perfect for your club or organisation. We provide a wide range of souvenirs including brass labels, personalised engraved items, window stickers and more.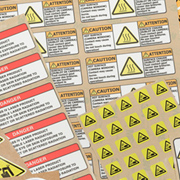 Southern United have over 70 years' experience in providing first class health and safety signs and labels for a wide range of companies and industries., With a selection of standard signs available as well as unique personalised signs, we take pride in offering a wide range of products to our clients.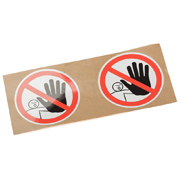 Choose from our vast selection of personalised warning labels, whether you require a standard signage or something a little more unique. Southern United draws from years of experience in order to specialise in the manufacture of high quality, durable warning labels to ensure safety in the workplace.
Contact Us
Southern United offer a wide range of first class labelling and name plating products designed for a variety of uses. From companies and organisations, to medical and healthcare, we offer durable, flexible and versatile nameplates and labels designed to last.
Whether you would like to find out more about the products we manufacture and supply, or if you have a question regarding a particular material we use, please do not hesitate to get in touch. Call us on 01273 418636 to speak directly to a member of our professional team, or fill out the enquiry form on this page. We hope to speak with you soon.
We are committed to producing top quality stainless steel labels and nameplates that are bespoke to customers' exact requirements, producing a unique and quality item on time, every time.
Get a no obligation quote today
If you require high quality stainless steel labels or nameplates, use our form opposite to a get a no obligation, free quote today.