With a wide range of products and materials to choose from Southern United draw from over 70 years' experience in making bespoke signage, aluminium nameplates, aluminium labels and laminates. Working close to the requirements of each individual client, we ensure that our products meet their exact specifications exactly. Having previously worked with a large number of companies, business, clubs and organisations from a range of industries, Southern United are able to provide first class services to all our clients.
We employ a combined team of experienced professionals with expertise and experience in the industry in order to continue bringing new and refreshing ideas to our company, ensuring that we remain at the forefront of label and nameplate manufacturing. We are also proud registered suppliers on Achilles, focusing on complete client satisfaction through hard work and high quality products.
Based in Sussex, we work throughout the South East, in London and across the UK. You can count on us no matter what you need.
Aluminium Labels
Southern United Ltd have been producing top quality aluminium labels for more than 70 years.
In order to be able to produce items as quickly as possible, we always hold a good stock of the various commonly requested thicknesses of aluminium, but we are able to source other thicknesses if you have specific requirements. Don't hesitate to get in contact with our team to discuss your needs. In addition, we are able to produce your items in numerous finishes, including anodised, printed, etched, and vinyl over-laminated.
Through our extensive experience in producing specialist aluminium labels and nameplates, we have developed a large stock of tools to enable us to cut your items in a wide variety of shapes and sizes, including various options for the items' edges in order to further enhance your label or nameplate. We offer a specialist in-house anodising service for the items that we produce. This means that your items can be produced on a brass effect background, giving your item a more expensive, top quality finish at an economical price.
We are able to produce your items with either standard adhesive, or with extra strength adhesion in order to meet your particular requirements and we are happy to advise you on the best option to suit your needs.
Services We Provide
Southern United provide a huge range of products designed to suit your requirements. Having worked with labels, laminates, nameplates and more for over 70 years, we are able to provide a wide range of colours, finishes, sizes and shapes to your company needs. We work closely with our customers to ensure that everything we produce is to their unique specifications, taking pride in providing a service that embodies complete satisfaction in every product we supply.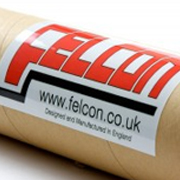 Offering a number of useful applications, polyester is produced from a plastic film and is highly resistant to heat. Southern United provide our polyester labels in a number of thicknesses, offering adhesion to a wide range of solvent based inks in order to create the design you need.
Rigid PVC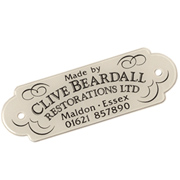 Rigid PVC is flexible and durable, often used for bank or membership cards. Otherwise known as Polyvinyl Chloride, it is available in a variety of finishes including gloss, matt, textured and more. Southern United also offers sub surface printing which is designed to improve the durability of the Rigid PVC.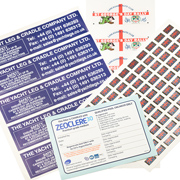 Printed using solvent inks, vinyl is then made scratch-proof weather-proof and waterproof. As it is incredibly durable it can be used for a number of purposes.
Southern United also provide vinyl labels in a variety of sizes, shapes and colours to your specifications.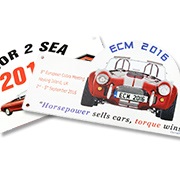 For important events, Southern United offers first class service with a range of products designed to highlight your club or organisation. Whether you're looking for rally plaques, brass labels, engraved items or other memorabilia, with expert services tailored to your personal needs Southern United has you covered.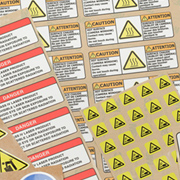 Health and Safety is of the utmost importance in the workplace, so Southern United provide a wide range of health and safety labels for all purposes, including standard signage and more personalised requests for each company.
We take pride in our ability to provide first class health and safety labels for all companies and industries.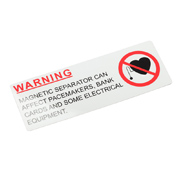 Southern United specialise in providing a wide range of bespoke labels, including personalised warning labels to ensure safety and security in the workplace. Available in a selection of materials and finishes, we are able to meet a number of health and safety signage requirements, contributing to ensuring that our clients are completely satisfied with the services we provide.
Contact Us
Southern United offer a wide range of personalised nameplates, aluminium labels, flexible plastic labels and more. With over 70 years' experience ensuring complete customer satisfaction with our first class products, allow us to provide you with everything you need.
If you have any questions regarding our aluminium labels or the products we supply, please give us a call on 01273 418636 where a member of our expert team will happily help you. You can also email us your questions to sales@sunited.co.uk or by filling out the enquiry form to the right and we will get back to you. We look forward to hearing from you.
Get a no obligation quote today
If you require high quality aluminium labels or nameplates, use our form opposite to a get a no obligation, free quote today.