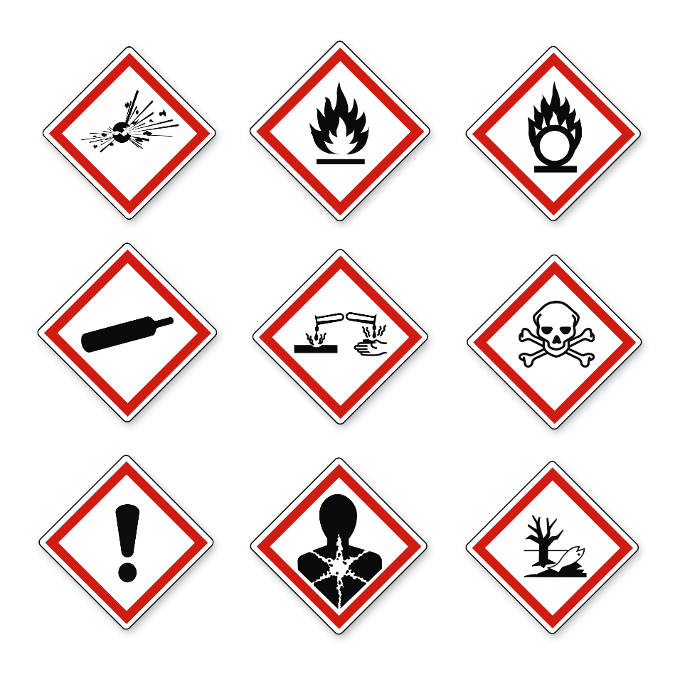 At Southern United, it's important to us that we stay up to date on current trends and legislation across our whole product range; this is never more important than when it comes to safety labelling. As part of our commitment to providing our customers with the best service, we have put together this guide to the requirements of GHS-compliant labelling, to help you design the labels we make for you.
What is GHS?

GHS is the Globally Harmonised System for classifying and labelling hazardous chemicals. It has been adopted by institutions around the world, with a view to clearer and safer communication about hazards in the workplace.

This is particularly important when chemicals are being used outside of their country of origin, so that no matter where in the world they end up, the people using them can understand what precautions to take. The need for re-labelling for an international destination is significantly reduced, saving costs and preventing accidental mislabelling.

Where has the Globally Harmonised System come from?

GHS was first introduced by the United Nations in 1992, to create better cohesion in regard to the way chemicals are classified and labelled. At that time, each country had different regulations and descriptions of hazards – for example, what could be classed as "toxic", or "dangerous". Not only did this create a barrier to trade, but created unnecessary risk in workplaces handling these chemicals.

GHS has been gradually implemented in countries around the world, with the EU Regulation first taking shape in 2008. By 2015, the system had been phased into use in all EU Member States, including the UK. In 2012, the US Occupational Safety and Health Administration (OSHA) also revised their Hazard Communication Standard to reflect the principles of GHS.

While it is not a legal requirement for a country to enforce GHS labelling, so far the practice has facilitated trade, reduced the need for chemical testing and created a recognised and easy to use framework in countries that did not have one previously.

How do I become GHS compliant?

Depending on your organisation, there may be many ways the CLP Regulation affects your daily activities. In this guide, we are going to focus on the health and safety labels you need to package any chemicals you are producing, transporting or storing.
A GHS-compliant label must include:

A GHS hazard pictogram, to convey information about the hazardous effect the chemical may have on human or environmental health. Pictograms must be two-tone, with the appropriate icon in black, surrounded by a red, diamond-shaped border.
A signal word such as "DANGER" or "WARNING" to emphasise the severity of a hazard.
A GHS hazard statement, using designated phrases for every type of hazard you are referencing.

What are the GHS pictograms?

The GHS pictograms have been developed for fast and accurate recognition of the hazard associated with the chemical being stored. It's important that any pictograms are clearly positioned and easy to read from an appropriate distance.

At Southern United, we are happy to pre-print your labels with the corresponding pictograms for you, or create labels with a red diamond in which you can print the relevant icon yourself.

The Globally Harmonised System features nine official pictograms to represent the following hazards:

Physical hazards

Unstable substances should be labelled with the icon of a ball exploding.
Flammable material. A flame pictogram is designated for any gas, liquid or solid which is liable to ignite.
If a container is storing a chemical that gives off oxygen (and may trigger a volatile reaction), it needs the GHS pictogram of a flame over a circle.
Compressed gas. A symbol representing a gas canister should be used for any container with pressurised gas inside.
The pictogram featuring an object and hand being damaged by test tubes is for chemicals with corrosive properties.

Health hazards

The skull and crossbones image needs to be affixed to any chemical which has poisonous effects, whether that's through consumption, inhalation or physical contact.
Harmful substances. If the chemical can cause any kind of damage to the eyes or skin, cause dizziness or other adverse reactions, it should be labelled with an exclamation mark pictogram.
Hazardous to health. Chemicals responsible for cancer, reproductive or developmental issues, respiratory disease or other mutations should be indicated using the pictogram of a figure with a white burst in their chest.

Environmental hazard

Environmental hazard. Any substance with the potential to cause harm to the aquatic environment should be labelled with the image of a sickly tree and poisoned fish.
How can Southern United help?
We are proud to be your partners in workplace health and safety, and can deliver high-quality, GHS-compliant labelling to your factory or lab. We can do this in three different ways;
Fully printing your GHS label designs for you, giving you a lasting print and the convenience of ready-to-use labels.
Partially printing your labels with a GHS-compliant template, including a red diamond pictogram border and a black outline. Your variable information can then be added at your facility, such as hazard pictograms and appropriate warning text.
Providing GHS pictogram labels, for a quick and easy way to add the correct pictogram to any chemical container. Southern United GHS pictogram labels are high-quality and durable, ensuring your chemicals can be reliably and consistently identified.
To discuss your labelling requirements, call our team of experts today on 01273 418636, or use our contact form to get a same-day quote.