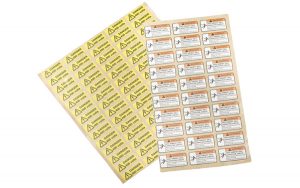 Polycarbonate Labels – A durable & versatile labelling solution
Polycarbonate is a very popular material due to its resistance to high temperatures and excellent dimensional stability and colour. As a result, this material is suitable for multi-layer printing for high-performance labels and besides extremely durable.
Polycarbonate film is one side velvet, one side polished transparent film. We offer two manufacturing options – Screen printing and Reverse digital printing using both traditional solvent-based & UV drying inks.
Screen printing is carried out on the back of the sheet, then the adhesive is applied. Printing on the back of the item gives it maximum longevity, so your item appears 'new' long into its lifespan.
Material is available in thicknesses of 250 or 500 microns; we have precision cutters to produce them virtually to any shape. Our Polycarbonate labels are suitable for a very wide range of applications and are used in a wide variety of industries, from electronics to aerospace, and in medical applications.
We have extensive experience and a wealth of knowledge in our industry, using both traditional and state-of-the-art methods of manufacturing. We undertake all of our work, from design to delivery, in-house by our experienced and dedicated team.
Polycarbonate labels printing from our in-house digital printer
Contact Us
Working with companies on both a large and a small scale, we provide personalised printing solutions to ensure we match your specifications. Whether you are starting a new business or looking for industrial labels, Southern United can help.
To find out more about the products we manufacture and supply, get in touch with us today by calling 01273 418636, or by emailing us at sales@sunited.co.uk and we will get back to you shortly. We look forward to hearing from you soon.