Southern United offers a fantastic selection of labels, laminates, brass name plates and more to companies and businesses from all industries. They can be entirely personalised to suit your needs and requirements. With over 70 years' experience in the manufacture and supply of high quality brass nameplates and labels built for durability and versatility, we take pride in our ability to provide whatever our clients may need, right down to the shape, size, colour, finish and design of the label requested.
With a team of experience and highly-skilled professionals alongside our quick-thinking apprentices, we work hard to remain at the forefront of modern manufacturing, working closely with each of our clients to ensure that all products are to their exact specifications. Using expert materials, tried-and-tested methods and state-of-the-art equipment to ensure durability, our labels are built to last.
Brass Name plates
Southern United are extremely proud of our wide range of brass name plates. These range from furniture labels, engineering and electrical items, through to specialist memorabilia items for clubs and enthusiasts.
Brass items add a prestigious look to any finished product and we are able to offer you a variety of finishes including etched, printed, engraved or chemically etched according to your particular requirements. Brass can be used in both interior and exterior environments.
We always hold a good stock of brass in a variety of thicknesses and products are supplied with either a satin or a polished finish. We can also easily produce chrome-plated brass items. Our labels and nameplates can be produced in a wide variety of shapes using our in-house stock of specialist tools. At your request, we are also able to produce your items to include fixing holes. In addition, various strengths of adhesive are available to meet your particular requirements.
We are based in Sussex and provide brass signage, labels and nameplates to companies across the South East, London and the UK. Please get in contact with us to discuss your needs or to order a sign.
Services We Provide
Southern United provide a wide range of high quality durable and versatile nameplate products for clubs, organisations, business and more. Drawing from over 70 years experience in the manufacture and supply of high quality brass nameplate products, we offer a personalised service unique to the needs of your business. Taking pride in our level of client satisfaction, we offer a range of materials, finishes, colours, sizes and more to create unique nameplates and labels to meet your requirements.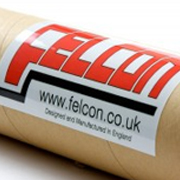 Polyester is a highly heat resistant material made from a plastic film, making it useful for a wide variety of industrial applications. By offering expert adhesion to a number of solvent based inks, Southern United are able to create any design you need in a variety of thicknesses.
Rigid PVC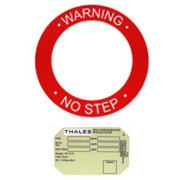 Available in a variety of finishes, such as gloss, textured or matt, Rigid PVC, otherwise known as polyvinyl chloride is normally used for membership cards and bank cards due to its flexibility. Southern United can also increase its durability by offering sub surface printing as a service.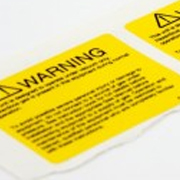 Whatever your requirements, Southern United are able to create vinyl labels in any size, shape or colour you need. It is printed using solvent inks, making it scratch-proof, waterproof and weatherproof.
Because of its durability, vinyl makes a popular form of label to use.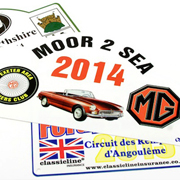 With a wide range of souvenirs and club memorabilia available from Southern United, allow our 70 years of experience to supply your club or organisation with high quality items for your event or fundraiser. Choose from a selection of materials and items, including brass labels, key rings, window stickers and more to highlight your event.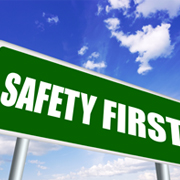 Health and Safety is essential in the workplace, so with a wide variety of health and safety laminates, labels and signage, Southern United provides everything you need to ensure the safety and security of your company. Southern United manufactures and supplies general signage, or personalised signs to suit the nature of your business.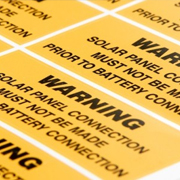 With a selection of warning labels in a wide variety of materials and finishes, whether you require a large scale project or a small sample, Southern United is always happy to help. We specialise in personalised warning labels and health and safety signage, ensuring complete client satisfaction by offering complete customisation in your choice of labels, materials and finishes.
Contact Us
Drawing from 70 plus years of experience in the manufacture and supply of metal nameplates, plastic labels, keychains, memorabilia and more, Southern United offer a wide range of materials to suit the needs of all our clients. Whether you are looking for durable metal labels, versatile vinyl labels or for souvenirs for your club or organisation, we can help.
For more information on the range of products we supply, get in touch today by calling us on 01273 418636. You can also email us at sales@sunited.co.uk or by completing the enquiry form found to the right of this page. We look forward to hearing from you soon.
Engraved Brass Plaques
If you require high quality brass name plates, brass plate engraving, brass plaques or labels, use our form to a get a no obligation, free quote today.