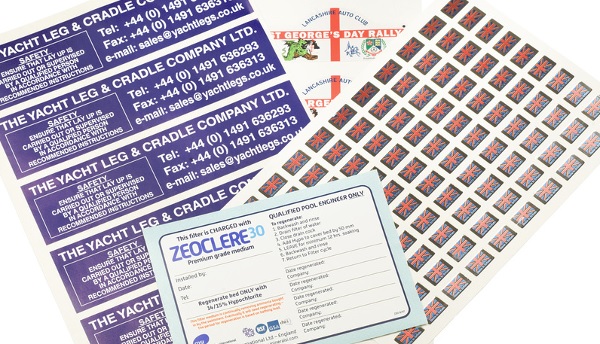 Whether you work in a medical environment, a commercial setting or you require labels to maintain health and safety standards, labels provide a quick, cost-effective and easy way to keep a strong brand presence and adhere to necessary guidelines. Vinyl labels have long been popular with businesses in a host of different sectors for a variety of reasons – but what is it about vinyl labels that makes them such an appealing option for companies of all shapes and sizes?
Simplicity and speed
When it comes to conveying a message or an image, it doesn't get easier than vinyl labels. Once you have your labels, what could be more convenient than simply peeling one off the sheet and sticking it in place. It provides a speedy way of increasing safety, promoting your brand or providing information – and if they're no longer needed, they can be removed just as easily. In business, time is money, so any solution that can deliver speed is one worth investing in.
They're durable
One of the features that makes vinyl labels so popular is that they are incredibly durable, with the ability to stand up to moisture, temperature changes and poor weather conditions. This means they can be used outside and indoors, and if the product they're attached to gets hot or cold, they're not going to peel off. Waterproof vinyl labels deliver the toughness needed for a range of different industries, making them a commonly used option.
Flexibility to conform to different surfaces
The beauty of vinyl labels is that they can be applied to different surfaces such as curved objects without lifting or skewing the image on the label itself. This makes them ideally suited to the likes of bottles and jars, as the conformable properties mean they'll stay attached and visible – a must if the information on the label is critical, such as when adhering to health and safety guidelines.
A cost-effective solution
As any business owner knows, finding affordable solutions is essential in stretching the budget further. But you still require quality in order to retain your public image and reputation. That's where vinyl labels are so useful. Vinyl is a cost-effective solution that provides excellent returns on investment and with high quality printing, your labels will look professional for the best of both worlds.
Specialist vinyl label makers
As with any product your business uses, you need to be sure you're investing in value. Vinyl labels make that task even easier – they provide durability, convenience and are affordable without compromising on quality. What's more, they can be used in such a wide selection of applications and industries, to great effect.
At Southern United, we offer a wide variety of label and nameplate options to suit a range of different applications, from branding and marketing to health and safety. Contact us to find out more about the products we offer, or you can call us on 01273 418636 to speak to a member of our sales team.