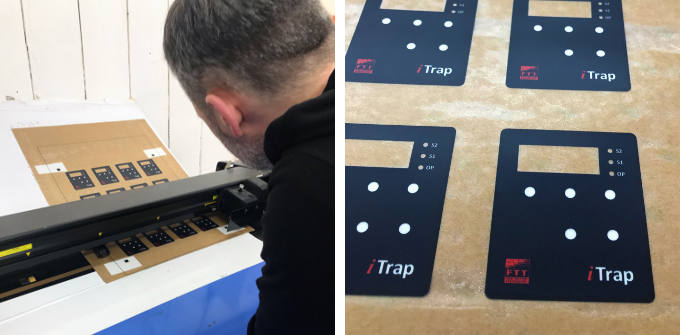 At Southern United we love to make an equipment label for a pioneering industrial gadget. The iTrap is a new device from Fire Testing Technology Ltd, designed to remove the moisture from combustible gas lines ready for analysis. Based in Sussex, not far from us in East Grinstead, FTT Ltd have been creating innovative fire testing instruments for nearly 30 years and are world leaders in their field. Our drawing office produced the artwork in Illustrator, time is taken to match the required colours, in this case a pantone, to the exact shade that the customer needs.
A digital cutting file is also created at this point. Printed on polyester in a gauge of 0.13mm, they are digitally produced by a Roland 330 UV machine. Once the labels are printed we apply 3m 9471 adhesive backing on a laminating machine. To cut the labels we use a machine called a Summa which relies on sensors to calculate the measurements of the labels. We then cut away any excess material and the products are inspected and checked by our quality control team. Every item we create is a bespoke label or nameplate designed to look and perform perfectly in the desired setting and conditions.
Learn more about Fire Testing Technology Ltd. here.