For 16 years the team at PPK Aldershot have been manufacturing hydraulic hoses and equipment, as well as refurbishing cylinders, separators and pumps on a nationwide basis. With all of this work an efficient system was needed so that customers knew how to get in touch for refurbishments and new parts. In the words of Mark Staples, CEO of PPK: "keeping track of our equipment and maintaining contact details of PPK refurbished equipment is an essential part of the marketing of the PKK business".
Southern United is happy to provide PPK with tough, durable Melinex labels, which we have printed to meet their exacting requirements. In this particular instance it was decided that a polyester material would work well, and the details of this can be seen below.
We would like to wish PPK all the best in their continued success as their branded equipment travels throughout the country.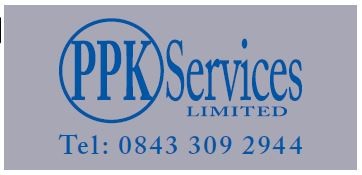 If you need labels for your equipment to make sure everything is clearly identifiable as one of your products then call our friendly team today to find out more. Southern United offer a huge range of different label materials to suit any kind of of environment. Call us on 01273-418636 or get in touch here.