Southern United are a unique labelling company specialising in bespoke nameplates, labels, laminates and more, and we can also provide CE labels. We focus on creating products designed to meet our customers' unique specifications, taking pride in ensuring that all our products are completed to a high quality standard. Our team of expert employees combine seasoned professionals with innovative apprentices in order to ensure that we remain at the forefront of modern manufacturing.
We work closely with each of our clients, ensuring that they are satisfied throughout the entire production process. By working with a wide range of materials and finishes, we are able to provide our customers with a huge scope of choice when it comes to choosing their own unique labels and nameplates.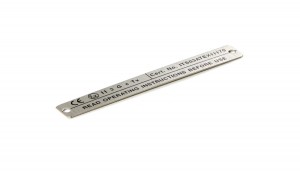 CE Marking Labels
Due to the legislative requirements, CE Marking (formally known as EC marking) has become an entity within itself. It is a mandatory conformity for certain products sold within the European Economic Area (EEA); this requirement has been in place since 1985. CE Marking is a worldwide recognised symbol, even to those who may not be generally familiar with the European Economic Area.
The marking itself usually appears together with the CE logo, and if applicable, also a four digit identification code of the body involved in the conformity assessment procedure.
At Southern United our CE labels can be produced on a very wide variety of materials; this means that they are able to withstand extreme temperatures, adhere to various surfaces and, depending on their intended use, can also be produced on materials that can be weather-proof: this ensures that the longevity of the labels surpasses our customers' expectations.
Contact Us
Drawing from over 70 years' experience in the manufacture and supply of first class labels and nameplates in a wide variety of materials, Southern United is dedicated to ensuring complete customer satisfaction in all the products we supply. Whether you are looking for an iconic keychain for your club or organisation, a first class nameplate for your business, or if you have any questions regarding our services, please do not hesitate to get in touch today.
You can call us on 01273 418636 to speak to a member of our friendly team, or you can email us your questions to sales@sunited.co.uk and we will get back to you. You can also fill out our enquiry form on this page. We hope to hear from you soon.