Welcome to the new home of RallyPlaques – your "one stop" service for club regalia and memorabilia. We have over 70 years of experience providing a range of customised commemorative products, for hundreds of classic bike and car organisations.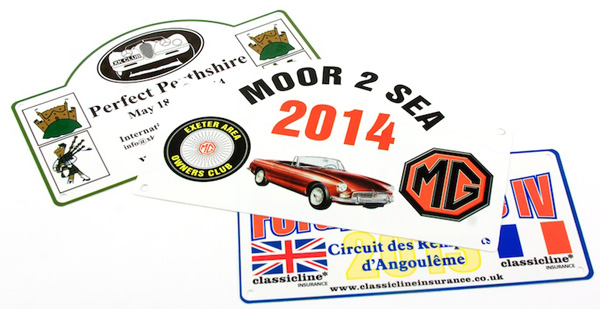 Working with you
We understand the pride you have for your club, and the prestige of the events you run. We also recognise that those events must be cost-efficient, and that you may not know the exact attendance figures until only a few weeks beforehand.
At Southern United, we meet your needs and challenges with a flexible, reliable service, providing you with the highest quality club memorabilia. We can offer a range of materials for each product, and our professional team are happy to recommend the best options to help you keep your costs down.
Once you are happy with the design of your badges, plaques or keyrings, our on-site manufacturing facility allows us to produce them in budget-friendly quantities, which can be finalised close to the date of your rally or event.
Our Products
The most popular memorabilia products we create for our clients are;
Rally plaques
Grille and bar badges
Pin badges
Key rings
Club regalia
Window stickers
Our production of car and motorbike rally material has grown hugely over recent years, so if you are looking for something not listed here please call us to see how we can help.
We will respond to any enquiry as quickly as possible, and can provide you with a quote within a few hours. Contact us using the form on the side of this page, call us on 01273 418636 or send an email to sales@sunited.co.uk for more information. We look forward to hearing from you.